JVC RC-M90
The JVC RC-M90 is considered one of the "holy grail" boomboxes and one of the most desired. Expect to pay somewhere in the 4 figures for a decent one. It's also considered one of the best sounding boomboxes and my personal favorite. Full list of features below.
The JVC RC-M90 can be found on such album covers as LL Cool J's Radio and The Beastie Boys Solid Gold Hits, pics below.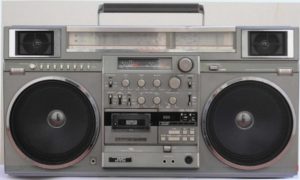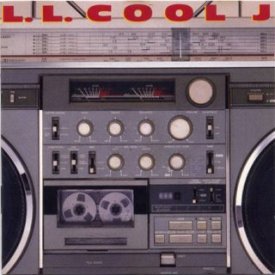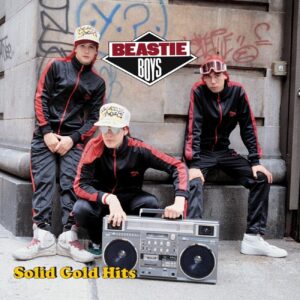 JVC RC-M90 Boombox Features
1. Newly developed 2-way, 4-speaker system with polyurethane laminated cone speakers. 2-way, 4-speaker system with two 20 cm woofers and two 6.5 cm tweeters. Uses newly developed polyurethane laminated cone in the woofers to produce rich, realistic sound.
2. High total power output of 40 W (20 W per channel). Peak music power of 60 W (30 W per channel).
3. 2-motor full logic control mechanism. Provided with a remote control jack. Timer standby mechanism. Cue and review facilities.
4. Multi music scan mechanism for skipping up to 5 different program selections.
5. Built-in SUPER ANRS, ANRS/DOLBY B NR noise reduction systems to greatly reduce tape hiss and improve dynamic range.
6. Metal tape capability. METAPERM recording/playback head and 2-gap SA (Sen Alloy) erase head. 3-position tape select switch for Metal, CrO2 and Normal tapes.
7. Multi mixing facilities when using wired microphone. Provided with mixing volume control. Provided with two microphone jacks (6.3 mm diameter) for exclusively microphone mixing.
8. 8-Band radio selection including FM, AM, SW1-SW6.
9. Manual/Automatic Recording Level control.
10. Record muting facility for leaving non-recorded sections.
11. Equipped with recording and external input (PHONO/LINE IN) jacks. Built-in RIAA equalizer for direct connection of a turntable.
12. External output and external speaker jacks.
13. External antenna terminals for FM and SW.