Akai Boomboxes
Akai is an electronics company founded in Tokyo, Japan by Masukichi Akai and his son, Saburo Akai in 1929. They were first known as Akai Electric Co., Ltd. They went out of business in 2000, but the Akai brand is now owned by Akai Sales Pte Ltd. in Singapore. They started out producing audio and musical equipment, then later home appliances, VCRs, DVD players, televisions, digital products and much more, including boomboxes, which they still manufacture today.
Akai Boombox Model Numbers
AJ-360
AJ-360H
AJ-435
AJ-435FS
AJ-457
AJ-480
AJ-480FS
AJ-485
AJ-490
AJ-495
AJ-500
AJ-500FS
AJ-505
AJ-505FS
AJ-520
AJ-525
AJ-525FS
AJ-530
AJ-530FL
AJ-557
AJ-C1
AJ-C1FL
AJ-R205
AJ-W209
AJ-W211
AJ-W227
AJ-W238
CE2000
CE2200R
CE2300-BT
CSDV6R
PJ-11FS
PJ-15
PJ-15FU
PJ-22
PJ-33
PJ-35
PJ-35FU
PJ-43
PJ-C7
PJ-R25
PJ-W30
PJ-W55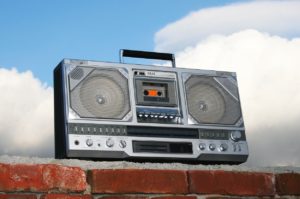 Akai boombox for sale. The history of old school and vintage Akai boomboxes and ghetto blasters.